Lynch Cooper is perhaps best known for winning the prestigious foot race, the Stawell Gift in 1928 after two previous attempts. That year, a record amount of prize money was offered – £250. In addition to the prize money, Lynch bet all the money he had on himself at 60:1 and won.
Lynch Cooper was active in the Australian Aborigines' League with his father, William Cooper He was also in the Aboriginal choir that played a key role in the build up to the Day of Mourning. Lynch's father lived within walking distance while his sister, Sally Russell Cooper, also lived nearby in Footscray.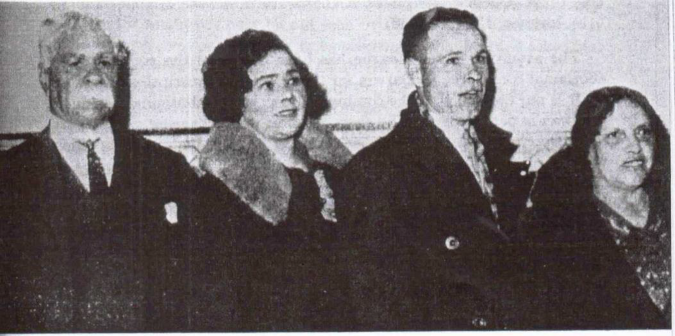 William Cooper, Marg Tucker, Lynch Cooper and Sarah Cooper in a choir. This image is from Barbara Miller's book William Cooper Gentle Warrior: Standing Up for Australian Aborigines and Persecuted Jews (2012).
Lynch Cooper would continue to be active in Aboriginal Affairs for many more decades: "On 28th June, 1968, Mr. Lynch Cooper, Aboriginal representative from Wangaratta, and former world champion sprinter, was unanimously elected as Deputy Chairman" of the Aboriginal Affairs Advisory Council". In this role, he also worked with Margaret Tucker (Ministry of Aboriginal Affairs Report, 1968).